Family Ties Are Forever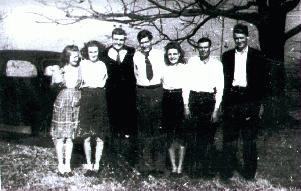 Alexander, Atkinson, Crawford, Cromwell, Evans, Gray, Horton, Leonard, Maness, Stovall and Waggoner are the main surnames I'm researching.


You never know who might fall out of your family tree!!
---
Photo Galleries!!
---
Horton Surname Index The Horton line (my father's side) includes many surnames and links from Isaac Horton Senior who was born in 1759 in England.

Also on my father's side is the surname Maness - I have only been able to trace back to Thomas J. "Tommy" Maness b. 1821. I could use some help on the Maness line.
On the Horton side there are Alexanders, Atkinsons, Cromwells, and Lindseys.

On the Stovall (maternal) side there are the surnames Crawford, Evans, Leonard, Stovall, Waggoner and more.

On my mother's side the Crawford line goes back to Anthony Crawford b. 1780. I need some help on the Stovall line. I'm having a problem locating my gr gf Gilbert Pinkney Stovall. I have connections to Martin Leonard b. 1680 through the Evans line.
---
Poplar Corner Cemetery - many of our Crawford line are buried here.

NOTE: Because the databases on this were gathered from several different sources not all is fully documented. So please - if you find discrepancies that you can substantiate please let me know and I will gladly make needed corrections. Also if you have family links that connect to these databases please let me know. Email Me!

My Cates/Ashby line came from Hopkins and Webster Counties in Kentucky.
---