A Legend Leaves Us My Tribute to Carl Perkins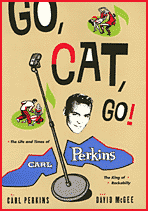 ---
Perkins Legacy - Caring for Others
The Exchange Club/Carl Perkins Center for the Prevention of Child Abuse opened in 1981, here in Jackson, Tennessee, after Carl raised $33,000 in a joint concert with the Statler Brothers, and the Exchange Club received a start-up grant of $26,000.
The story is told that Carl saw a picture of a little blond-haired, blue-eyed local child who had lost his life to child abuse and showed it to his wife, Val. He thought the child reminded him of one of his own children and he wanted to do something about child abuse.
He had concerts, telethons, and fund-raisers each year to benefit the center, which helps 250 families each month and works to prevent child abuse. In 1988 a satellite office opened in Trenton and another in Lexington in 1990.
Without Carl Perkins these centers might not be here today.
Even when he was ill with throat cancer and his doctors advised him not to appear at the annual telethon, he attended anyway.
He also helped raise money for the West Tennessee Cerebral Palsy Center.
Carl's restaurant "Suede's" closed for three days after his death and the marquee out front read, "Please pray for Perkins Family". The 1950's-themed restaurant/museum opened in 1993. It is filled with photos and other memorabilia collected during Carl's career.
Carl liked to drop in when he was feeling good to meet people and sign autographs.
So you see, here in Jackson, Tennessee, we didn't just lose a celebrity, we lost a good friend. Carl cared about his community and his neighbors. He did all he could to make Jackson, Tennessee a great place to live.
Carl survived the dangers of fame, including a bout with alcoholism. He stayed close to his wife Valda, his children and his grandchildren. No matter how far his talent took him, he always came back to his family and his home town of Jackson, Tennessee.
Carl, we miss you so much.